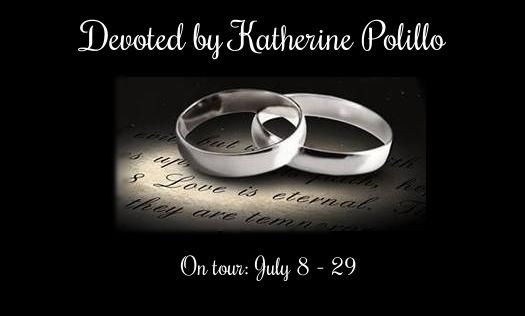 Book II in The Watcher's Trilogy
Michelle has managed to survive high school against all odds, but now she finds herself floating adrift in "the real world". With two horsemen defeated, there are still two unaccounted for, and surely they are plotting her immediate demise. Michelle leaves her small New Jersey town behind to venture off west. Barely able to comprehend her role as humanity's savior she now has to grapple with some new roles and identities. With her Watcher, Gabriel, by her side she must again face the evils of Hell and attempt to keep her family safe. Will love conquer all or will till death do us part come too soon?
My Review:
First off - does anyone else think that the book cover looks like a cover from one of those erotic romance novels that have been so popular lately? That, paired with the simple title, and I could come up with a few ideas about what this book could be about.
If you agree with this,
don't judge a book by it's cover!
I'll admit it. I've read the 50 shades trilogy, as well as the first two books of the Crossfire saga. There is a place for those kinds of books, and it's ok if you like to read them. But Devoted is not that type of book!
While I liked book one, Destine, I
loved
book two. For me, that's not all that uncommon when I read a series. The first book gets you familiar with the characters and sets up the overall struggle that will occur throughout the series. But book two gives you so much more. As the reader, you already know the characters and what's happening. There's not as much initial explaining going on. Yes, we know that Michelle is The Defender, now what happens because of this?
I knew going into this book that it would be continuing the Buffy-esque, stop-the-end-of-the-world-from-coming deal, but a lot of what ended up happening in this book was a complete surprise to me. I read it in less than two days. And the last 100 pages - you couldn't really talk to me. My son was asleep and my husband was watching wrestling while I was
glued
to this book, tuning out everything else. I couldn't turn the pages fast enough. I felt anxious for Michelle and Gabriel, and for her friend, Cami and her mom. Some books just completely suck you in, and Devoted was definitely one of those books for me.
Stop what you are doing and read The Watcher's Trilogy!
Author Bio:
Katherine Polillo originally planned to grow-up and become an archeologist. Unfortunately the desert air dried out her skin, the dirt was impossible to get from under her fingernails, and she just couldn't pull off a fedora like Harrison Ford. So instead she pursued a career in education. She currently teaches high school history and special education, while fabricating fictional stories in her free time. She never really outgrew her imaginary friends stage, and instead has created lives and stories for the creations of her imagination to live in. When she is present in reality and not off on an adventure with her imaginary friends, she lives in a small, New Jersey town with her husband, the man to which all fictional leading men are compared, and their two spoiled rotten, ungrateful cats.
Buy Links:

  Amazon      B&N       Smashwords  
Social Media links: Goodreads    Facebook     Twitter 
 
Prize pack (1): key chain, postcard, 2 travel mugs, signed paperback (international)

Runner up prize (2): 2 e-copies of Devoted