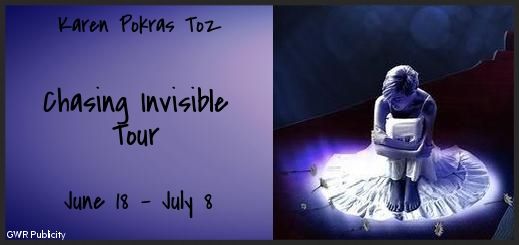 Blurb:
Could you handle life in the spotlight?
Julia Alexander is a quiet girl from a small town. Content to spend her days with a small group of friends and a pile of books, Julia thinks her future is set. When she unexpectedly meets Chase, a fellow college student and budding musician, she is unaware of just how drastically things are about to change.
Suddenly thrown into the limelight, her life is no longer her own. Relentlessly followed by the paparazzi, Julia is forced to make tough decisions about fame, love, family and relationships. But just how much will Julia have to sacrifice to become invisible...
What did I think?
This book was exhausting! I couldn't put it down. As a reader, you definitely have to stay alert; moving one chapter forward could put you years into the future. But it could also just be days ahead - you never know. This is, however, because the author, Karen Pokras Toz, has to cover so much ground in very few pages. We are able to see glimpses into the majority of the main character's life.
Jules is an introvert and a bookworm. Much of the beginning of the novel takes place while she is in college, with flashbacks to some of her high school memories. The older she becomes, the further apart the gaps of time. This is to highlight the major milestones and conflicts in her life.
Although I couldn't really connect with Jules on a personal level, she is a very complex and intriguing character. Toz had me turning the pages (well, touching the screen of my iPad to turn the page) to see what was going to happen next. Julia seems to constantly go back and forth from happy to miserable.
The end of the book got me a bit irritated. While it makes sense to the overall story and the title, I still would have wanted a different end. I've rarely felt more disconnect with a book character than I did to Jules at the end of Chasing Invisible. Well, aside from Gone Girl (yikes - that lady was
crazy
!) I just don't see how Julia could do a thing like that.
While I wish for a different ending to satisfy my own selfish book nerd desires, Chasing Invisible is a good read, and I'm glad that I got the chance to read it. Check it out for yourself, and don't forget to enter the giveaway!
About the Author:
Karen Pokras Toz, recently discovered her love for writing. Karen writes middle grade and adult contemporary fiction. Her middle grade children's novels have won several awards including the Grand Prize in the 2012 Purple Dragonfly Book Awards and First Place for a Global E-Book Award for Pre-Teen Literature. Karen is a member of the Society of Children's Book Writers & Illustrators (SCBWI). A native of Connecticut, Karen now lives outside of Philadelphia with her family. For more information, please visit www.karentoz.com.
a Rafflecopter giveaway
 
Tour Schedule:



June 18 In the Land of Dreams http://inthelandofdreamsreviews.blogspot.co.uk/ Excerpt
June 19 Tyrneathem http://www.tyrneathem.com Top Ten List
June 20 Cu's e-Book Giveaways http://cuskindlegiveaways.blogspot.com/ Character Guest Post
June 21 Muddying the Waters http://www.muddyingthewaters.com Review & author interview
June 22 Rayborn rambles Raybornrambles.blogspot.com Review 
June 23 The Journey Continues http://jaimiehopejourneycontinues.blogspot.com/ Review & Author Guest Post
June 24 The Book Connection http://thebookconnectionccm.blogspot.com/ Review
June 25 Pavarti K Tyler http://www.PavartiKTyler Excerpt
June 26 Library Girl Reads & Reviews http://librarygirlreads.blogspot.com Author Guest Post
June 27 Lubs Book Chatter www.lubsbookchatter.blogspot.com Review and Character Guest Post
June 28 Fiona's Book Review Blog Http://nannyfi71.wordpress.com Author Interview
June 29 Kats Read Katsread.blogspot.com Author Guest Post
June 30 From the Bootheel Cotton Patch http://fromthebootheelcottonpatch.blogspot.com Book Promo
July 1 fuonlyknew http://fuonlyknew.com Excerpt
July 2 Fresh Pot of Tea www.alisondeluca.com Excerpt
July 3 lindsay and janes views and reviews http://lindsayandjaneviewsandreviews.blogspot.co.uk/ Review & Character Guest Post
July 4 Girl Who Reads http://www.girl-who-reads.com Tips on Thursday
July 5 The avid Reader www.tarmyblogspot.blogspot.com Book Promo
July 6 Lissette E. Manning http://www.simplistik.org/lissetteemanning Review & Author Guest Post
July 7 Ohana Day Academy http://ohana-school.blogspot.com.au/ Review
July 8 Ali's Bookshelf http://alisbookshelfreviews.blogspot.com/ Review